NEW DIESEL UTV LANDS IN HUONVILLE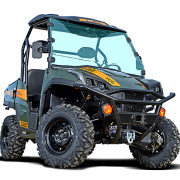 STIHL Shop Huonville today announced they will be among the first dealers in the country to offer the new brand of diesel UTV brand, Landboss, Powered by Perkins.
New to the Australian market, the 800cc diesel powered side by side work vehicle features a Japanese-made, Perkins diesel engine, electronic power steering and a towing capacity that would put some larger farm machinery to shame.
Owner of STIHL Shop Huonville, Wayne said he is pleased to be able to offer the vehicle to Huonville locals and expects the vehicles, once seen will be a popular choice for those seeking a quality work vehicle. "Everyone knows Perkins produce some of the finest diesel engines in the world and we think the Landboss will be a good alternative to other manufacturers thanks to the engine and build." Wayne said.
Revered globally as the best of the best, the Landboss 800D UTV features a Perkins 400D engine which is ultra-compact in design, emits low engine noise and has low operating costs thanks to 500 hour service intervals.
The vehicles feature electronic power steering, a roof, windscreen, six ply tyres, engine braking and a heavy duty winch.
"Bedside's the virtually unbreakable engines, another highlight is the carrying capacity which is more than a tonne. It has a towing capacity of 700kg and will carry an extra 450kg in the tray."
The Landboss, Powered by Perkins is geared towards not only primary producers but also at more heavy duty applications such as industrial, mining and government fleet use.
The team at STIHL Shop Huonville have the Landboss 800D UTV available now.
Click here for more details.
For more information contact:
STIHL Shop Huonville, 14 Wilmot Road Huonville 6264 1671
www.stihlshophuonville@bigpond.com